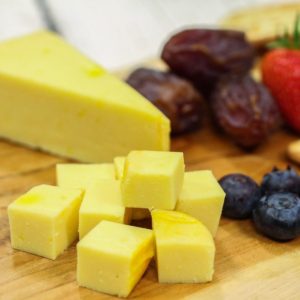 How many of us enjoy eating cheese ? What's the attraction ? Is it the taste ? The texture ? The colour ?
Are there healthier plant-based vegan alternatives to dairy based cheese ? Try the very simple vegan cheese recipe below:
11/2 C hot water 2 TBL corn flour
3/4 C cashews 1/4 C pimentos
3'/3 TBL sesame seeds 1/3 C Brewer's yeast flakes (optional)
I tsp salt I TBL lemon juice
2 tsp onion powder
1/8 tsp garlic powder
Blend all but the lemon juice.
Bring to boil while stirring constantly.
Boil for 2-3 minutes.
Remove from heat and ADD lemon juice.
Did you enjoy the vegan cheese recipe above ? Try also the vegan Tofu Cheese and Pimento cheese recipe options.
Why are dairy based cheese options unhealthy ?
high in saturated fat
increases blood cholesterol
tranmits animal diseases to humans
risk of dairy milk based brucellosis disease
made from waste products of milk molds and bacteria
fermenting process can produce a neurotoxin such as roquefortine (i.e. blue cheeses)
produces an amine that can cause headaches
rennet can come from pig stomachs
holes in Swiss cheese come from the action of gas forming bacilli, similar to those which form gas in the bowel
some cheeses contain mites (such as Milbenkäse, Cantal and Mimolette cheeses. See picture below.)