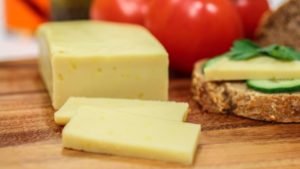 1. Tofu Vegan Cheese
3/4 cup water
1/2 cup cashews
3/4 cup Tofu
2 tablespoon yeast flakes
1 1/2 tablespoons lemon juice
1/3 cup pimento
1 teaspoon salt
1 teaspoon onion powder
1/4 teaspoon garlic powder
Blend smooth all ingredients. Chilling will make ingredients thicker.
2. Vegan Pimento (red pepper) cheese
4 Tabs of Agar Agar, 1 cup water,- soak for 5 mins until clear, blend with the following mixture:
1 blanched red pepper, 3/4 cup of cashews, 2 tabs sesami seeds, 3 Tabs flaked yeast, 11/4 teasp salt(sea salt or reduced salt bullion).
Then add slowly 1/4 cup of olive oil, then last but not least 1/2 cup lemon juice. Place in a dish and let it set. For today place it over brown soaked cooked rice(you dont have to let it set – so make double to put on sandwiches – its mouth watering and replaces all that saturated stuff. See notes at the end on cheese.
Theres some really nice cabbage about, put it in olive oil and water and saute it out, add some onions raw garlic and dill, you've now got a meal that fits the bill!
3. Tofu cottage cheese
1 cup Tofu, 4 Tabs chives, 1 clove garlic, 1 small finely chopped onion, 1 teasp reduced salt bullion, 1/2 – 1 cup tofu mayonnaise.
Mash tofu, add mayonnaise and all other ingredients.
4. Vegan Cheese – another melty cheese recipe !
MELTY CHEESE
11/2 C hot water 2 TBL corn flour
3/4 C cashews 1/4 C pimentos
3'/3 TBL sesame seeds 1/3 C Brewer's yeast flakes (opt.)
I tsp salt I TBL lemon juice
2 tsp onion powder 1/8 tsp garlic powderBLEND all but lemon juice. BRING to boil while stirring constantly; BOIL for 2-3 minutes. REMOVE from heat and ADD lemon juice.