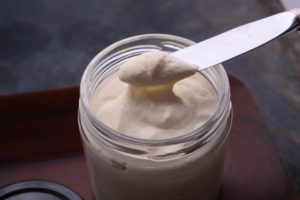 Sauces, Spreads, Dressings, Mayonnaise, Cream, Tomato Ketchup, Dips and Relish
1. Vegan Sweet Sauces/Spreads
½ cup cashews
½ cup water
1 Tab raw sugar/maple syrup or any other sweetner
1 tsp vanilla
Blend all ingredients together till smooth. Pour over fruit salad or strawberries.
2. Apricot/coconut spread
½ cup dried apricots
¼ cup powdered coconut
enough water to blend
touch of vanilla
Blend all ingredients together. Spread on toast or bread.
3. Vegan Sun Seed Tomato Dressing
1 1/2 cups fresh tomato
1 date
½ cup of sunflower seeds
1 clove garlic or ½ taesp garlic powder
3 Tabs lemon juice
½ onion
½ teasp basil or oregano
salt to taste
Blend together all ingredients – can have this smooth or coarse – Great on pizza, Pasta, vegetables and salad. Can have it RAW or COOKED!
4. Tasty Sesame Vegan Topping
1 cup of sesame seeds, toasted
¼ cup yeast flakes
1 tsp veg bullion
1 tsp garlic powder
White or brown sesame seeds may be used. Toast seeds in a dry skillet over medium heat, stirring for about 5 mins. Blend smooth all ingredients. Sprinkle over salad, vegetables, rice and beans, etc…
5. Vegan Cashew and Avocado Mayonnaise
½ cup cashews
¼ onion raw
1/3 cup warm water
½ teasp paprica or cummin
pinch garlic powder
2 tabs lemon juice
Blend together water and cashews first then add remaining ingredients and blend. To make guacamoli or AVOCADO DIP add 1 avocado and, adjust seasoning to taste.
6. Cashew Cream
1 cup cashews
½ cup water
1 Tbs honey
Vanilla
Blend all together
7. Tomato Ketchup
2 cups tomato sauce
1/4 cup chopped onion
clove of garlic
1 Tbs yeast flakes
1 Tbs honey
1 teaspoon of oregano, basil or marjoram
pinch of salt
Add 1 Tbs or two of virgin olive oil if required. Add all ingredients to blender and mix together.
8. Vegan Dressing
2 cups soaked sunflower seeds, almonds or sesame seeds (1¼ cup before soaking)
1 tsp. cumin
2 cloves garlic
1 cup of corriander leaves
1 cup pure water
2 tsp. bullion
6 Tbsp. lemon juice (about 1 lemon)
1 raw garlic
¼ cup flaxseed-, hempseed- or olive-oil.
Blend well and serve over a fresh green salad.(just lettuice, green onions, alfa, rocket salad) This dressing may thicken as it sits in your refrigerator, so you may need to add more water later. Will last up to 2 weeks.Use romaine lettuce leaves or cabbage leaves as your tostada shell, and fill with:
Guacamole, Salsa, and Pine Nut "Sour Cream."
½ cup flaxseed oil, hempseed oil, or extra virgin olive oil
3 ½ tsp. onion powder
1/4 teasp cayenne Pepper
2 ½ tsp. cumin powder
1 tsp.bullion
1 Tbsp. Braggs
9. Vegan Mayonnaise
1 block tofu, 1 c garlic, 1 tab lemon, 1/2 teasp bullion, 1teasp tomatoe pure, 2 tabs Flax oil, enough soya milk to blend – place all ingredients in a blender.
Have with Baked jacket potato – Thats the real cheese and jacket potatoe!!! and its dead easy to make. Have with sauted brocolli, cauli and sweet corn.
10. Avocado Dip
2 avocados
½ cup cashews/ 1 cup of water
2 tablespoons lemon juice
½ medium onion
salt
(garlic optional)
Blend cashews well then add the rest.
11. Whole Berry Cranberry Sauce
1 cup or 200g of brown dark sugar
1 cup or 255ml of water
12oz or 340g of fresh or frozen cranberries
Orange peel and juice if desired but reduce water
In sauce pan mix sugar and water; stir to dissolve sugar. Bring to boil; add cranberries, return to boil; reduce heat; boil gently for 10 minutes stirring occasionally. Remove from heat. Cool at room temperature and refrigerate. Makes 2 ½ cups.
12. Jellied Cranberry sauce
Prepare as above. Before cooling place a wire mesh strainer over a mixing bowl. Pour contents of saucepan into strainer. Mash cranberries with the back of a spoon, frequently scraping the outside of the strainer cover and cool at room temperature refrigerate until serving time. Makes 1 cup.
13. Cashew Pimento Cheese Sauce
1 cup cashews
½ cup water
1 oz. of red pepper
2 teaspoons of lemon juice
2 tablespoons chopped onions
1 clove of raw garlic
2 teaspoons yeast flakes
Blend all until smooth.
14. Cashew Vegan Mayonnaise
1 ¼ cups boiling water
1 cup raw cashews
¼ cup lemon juice
1 tablespoon honey
1 teaspoon salt
15. Fresh Cranberry Relish
12oz or 340g of fresh or frozen cranberries
1 medium orange
¾ to 1 cup (150g to 200g) of brown dark sugar
Slice unpeeled orange into eights; remove seeds. Place half cranberries and half of the oranges slices in food processor container. Process until mixture is evenly chopped. Transfer to a bowl. Repeat with remainder cranberries and orange slices. Stir in sugar to desired sweetness. Store in refrigerator or freezer. Makes about 2 ½ cups.
16. Pine Nut Soya Cream
1 1/4 cups pine nuts, soaked 1 hour or more
1/2 cup coconut powder
1/2 tsp.braggs
1/4 tsp. bullion
1 1/2 Tbsp. lemon juice (about 1/2 lemon)Blend all ingredients together in a blender until smooth and creamy. Will keep for up to 2 week in the refrigerator.