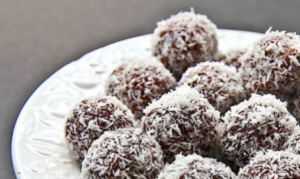 1. Carob Balls
1/4 cup carob powder
1/4 cup soya milk powder
1/2 cup honey
1 cup peanut butter or other nut butter (cashew/ almond)
coconut (optional)
Thoroughly mix carob and milk powder into honey. Stir nut butter into this. Form into balls by rolling portions between palms. Roll in coconut. Chill to make more firm.
2. Sweet Peanut Butter cookies
Cream together: ½ cup peanut butter; ¾ cup honey; ¼ cup water; ¼ tsp salt; 1 tsp vanilla;
ADD to mixture:
1 cup whole wheat pastry with soya custard
3. Banana Coconut Cookies
2 cups mashed banana pulp
1 cup chopped walnuts
2 cups finely ground coconut
2 Tbs honey
1 Tbs yeast flakes
Mix and form into patties and roll in sesame seeds. Press a walnut into each cookie.
4. Better than sweets
1 cup of raw almonds
1 cup of raw walnuts
1/2 cup dates chopped
1/2 cup raisins
shredded dried coconut
Sesame seeds (white hulled)Soak nuts overnight or at least 10 hours. Drain and rinse and place nuts in food processor. Process until fine. Then add other ingredients, and process until mixture is thick and binds together easily. Make balls by rolling about 1 tablespoon of mixture for each one. Then roll the balls in the dried coconut or sesame seeds.Place in oven on low for 2 hours or eat them like they are. (They bind better when cooked)
Tofu is processed soya bean curd. Contains easily digested protein; B vitamins and minerals including calcium, phosphorus, iron, sodium, potassium, inexpensive and low in calories. Tofu calcium content can equal that of milk without all the side effects(see article on milk).
Benefits lungs and large intestine, moistens dry conditions in the stomach, relieves inflammation of the stomach, neutralizes toxins -used in cases of alcholism, chronic amoebic dysentry, healing reactions, dietary changes, etc;
It is a concentrated protein and should be eaten in moderation – no more than twice weekly.
5. Banana Delight
1/2 cup cashews
8 dates, chopped
1/2 cup water
2 large bananas
1 teaspoon vanilla
1/2 cup raisins
1 1/2 – 2 cups cooked brown rice, millet or oats
Blend first 5 ingredients until smooth. Pour over raisins and grain of your choice, stir to mix. Heat in 350° oven until heated through.
6. Apple and red or black currants or cranberry crumble
12oz or 340g ready prepared chopped apples (eating or cooking)
12oz or 340g red or blackcurrants or cranberries
1cup of brown dark sugar; add another ½ cup if using cooking apples or cranberries
Steam the apples and berries together with the sugar until just soft. Pour into an ovenproof dish. Raisins and currants may be added; check the sugar you may desire to use less.
7. Vegan Crumble
Blend 4 slices of wholemeal bread and add:
½ teaspoon of ground coriander
½ teaspoon of ground cardoman
1 teaspoon of tarragon
1 teaspoon of rosemary
½ cup of brown dark sugar
Blend together until the texture of bread crumbs.
In another bowl prepare:
1 ½ cup of wholemeal flour
½ cupof sunflour oil or olive oil
Mix together and then rub with the palms of your hands all the lumps until smooth. Mix the bread crumbs and the flour together well. Gently spread on top of the fruit. Bake in a 4 to 5 oven until golden brown.
16. Fruit Vegan Cheesecake Recipe
Base: Granola/ Ginger biscuits/ Grape Nuts
Filling: 230g Firm Tofu/
200g Cashew/ Almonds Nuts/
500 mls Soya Milk
Honey at Taste
Vanilla Essence (optional)
Almond Essence if using Almonds Nuts (optional)
1 T Agar Flakes (1 1/2 if using Soya milk)
Topping: 300mls Orange Juice/ Pineapple/Strawberry Jelly (vegan)
1T Agar Flakes
Orange segments/ Pineapple pieces/Cleaned sliced strawberries
Honey (optional)
Base: Blend the granola/Ginger biscuits/Grape nuts For a little until lumpy
Press into the base of 7.5″ Flan tin and freeze.
Filling: Liquidise all filling ingredients together. Stir over gentle heat until starting to boil, keep stirring until it starts to thicken a little.
Pour over base. Chill.
Topping: Whisk the juice and agar flakes together over gentle heat until nearly boiling. Organise the fruit pieces over the filling. When starts thickening Remove from heat and spoon over filling on top of the fruit pieces.