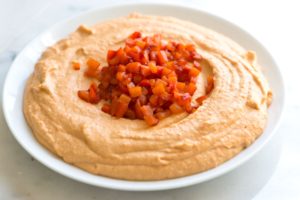 Natural vegan hummus, butters & guacamoli

1. Date Butter
1 cup dates – soaked for 10 mins
1 orange
1 tsp vanilla
1 tsp lemon
orange or lemon rind
Blend all together and put on toast or bread
2. Vegan Soya Butter
¼ cup soy bean flour
½ cup water
Salt
½ cup olive oil or flax oil
Add oil until consistency of thick butter. A pinch of tumeric or safflower added for colour. Add other herbs as required and yeast flakes if required.
3. Garlic Butter
2 Tbs Soy milk
Salt
3 Garlics
1 cup Soy butter
Put remainder of ingredients in a blender.
4. Vegan Cashew Cheese/Butter
Make as per pimento sauce
Add 4 Tbs of corn flour & whiz in blender. Heat in a pan until thick. Put in butter dish to harden.
5. Hummus
1 cup of cooked or raw chick peas
1 garlic clove
1 Tab tahini
a little water
2 Tabs lemon juice
salt to taste (if beans are salt free)
Blend all together until smooth. Serve in pita bread with salad.
6. Guacamoli
1 large or 2 small ripe avocados
1 tsp onion powder
½ tsp. celtic sea salt
2 tsp. lemon juice. Use a fork to mash the avocado and seasonings together. To maintain the green color, leave an avocado pit in the guacamole